Director Julia Dugan, a former professional ballerina, has been teaching dance for thirty years and has a Masters in Dance Education (Stanford BA, MA). Julia's unique background of professional dance and formal education has led to a progressive approach to ballet instruction that emphasizes proper alignment based on anatomical principles. A full curriculum—pre-ballet through advanced ballet classes—is offered for children and adults and encompasses eight graded levels. Students are placed and promoted into the appropriate level based on ability. Each of the instructors at AAB has been carefully selected based on a demonstrated ability to teach and guide students with a sound awareness of good body mechanics.
These classes are designed for students ages 2.5 to 3.5 who are ready for an introduction to dance. Parents participate with their child in a creative, friendly class. Parents help model steps and directions, and play a role in keeping young students engaged. This is a great way for parents and children to explore movement together.
These classes are designed for children 3.5 to 5. Dance training during the formative years prior to Kindergarten, involves exploring natural movement before learning a "foreign" technique such as classical ballet. The focus of the pre-ballet class is to tap into the inherently creative mind of the young child. Most kindergarten ballet schools teach dance steps with a monthly theme like princesses, a particular ballet like Swan Lake, etc. At AAD we tap into something bigger–the child's physical and creative imagination. Read this article by the Washington Post. Although it is true that young children are great at imitating, they are also great at creating their own movement and love to do so. We give young children a monthly dance concept to explore, create, and discover on their own bodies while still learning dance steps and using their imaginations. For example, if we focus on a monthly dance concept of slow vs. fast movement, children can create and discover a whole genre of dance steps such as gallops, skips, etc. and the different qualities of moving fast vs. slow. This is a translatable skill for sports, and all forms of dance. In this way, they are no longer limited by a just an imitation of the gallop step done like a princess. In the more typical canned approach employed by many kindergarten ballet schools, they will only learn a dance step like gallop like a princess. The gallop step in itself although fun, is not as translatable to all forms of dance, health, and sports as it would be if we can give it other qualities, nor is it as engaging if it is just given one way. The imagination at this young age is wonderful, and we try to tap into that, but we don't leave them with just a simple princess theme. By discovering, creating, and exploring with a dance concept, the possibilities become limitless and the child becomes fully engaged in choreographing, begins to understand the wide possibilities of how their bodies move, and ultimately become creative, wonderful movers. If you ever watch a child move, you will see that they spend the majority of their time exploring and making up their own movement. They are natural movers and that is what we try to tap into while letting them explore their own movement and dance steps with different qualities. It isn't enough or as fun to have one free dance song per class, or to even just give them some steps. We want them to enjoy all of what they can discover in their new bodies. This concept is then explored in fun and creative ways using dance games, simple barre exercises, obstacle courses, and simple choreography in the center. Props such as parachutes, beanbags, instruments, and dance wands enhance the child's experience. Children develop basic concepts used in dance such as an understanding of space or rhythm, as well as, fundamental dance movement like balancing, stretching, jumping, and turning. Lessons often include communal dances where children work in pairs or small groups in order to enhance the child's sense of cooperative and creative interaction. The emphasis in classes for this age is to foster a love for movement and dance.
This introductory class for boys combines expansive movement, stretching, and basic ballet positions in a fun atmosphere geared toward a young boy's energy. Movement games are interspersed in the class to work on strengthening areas while encouraging fun and expression. Boys range in age from 6 to 10, and often move on to one of the graded classes. We are proud of this successful program that seems to give boys the freedom to be boys while learning something technical like ballet.
Ballet 1A, 1B, 1C, 2, 3 Intermediate and Advanced Class
Basic 1A is designed for students in Kindergarten who are able to follow instruction well. Some basic technique is introduced while still promoting creative awareness with some movement games. Basic 1B is designed for students in first grade who are able to handle a little more structure and technique. Basic 1C is designed for second graders who are ready to receive technical corrections. At this point, we start to adhere more to a classical ballet class structure with barre and center, and fewer movement games. Basic 2 is designed for students who are ready to commit to two classes a week and have a basic foundation of ballet fundamentals. Basic 3 is designed for students who are ready to commit to three lessons per week and have some technique and mastery of basic steps. Students typically remain at this level for 2 to 3 years. Intermediate I is designed for students who have very solid ballet fundamentals in terms of technique and placement and are ready to begin pointe work. Intermediate II is designed for students who have basic pointe work abilities who are ready for more classes per week. Intermediate III is designed for students who are more proficient and beginning to move towards a professional track. Advanced students work on artistry, refining technique and preparing to dance at the highest levels of the profession.
These classes are designed for adult students at the basic to intermediate level. We encourage all ages and levels to participate. Classes are warm and inviting. Adults are allowed to wear dance attire that makes them feel comfortable. It has been a rewarding experience for us to see many adults rejoin the dance world by taking classes at AAB. We have adults students who range in age from twenty to seventy. Come on in! Private lessons are also an option for students who feel like they need to brush up on technique before they come in.
Our very popular Modern dance classes for teens and adults are wonderfully expressive and technically challenging for any level of dancer. Modern dance class combines athleticism, with fluidity and grace, focusing on articulation of the spine and joints, floor work, and traditional dance techniques. Previous experience in modern, ballet or jazz is appreciated, but is certainly not required. The Monday Modern Class is influenced by the traditional modern dance techniques of Limon, Horton and Graham, along with yoga and pilates, to create a diverse, challenging and very fun class. The Thursday Modern Class is influenced by Taylor, Parsons, Forsythe, and includes improvisation workshops.
Our classes in Jazz stretch across many styles including but not limiting to Classical Broadway, Lyrical, and Contemporary. You may experience isolations, alternating weight patterns, offline exploration, Broadway combinations in the style of Fosse, de Mille etc., character development, dramatic turns, jumps and floor work. Typically class will begin with a core based warm up, a series of stretches, technical drilling, jazz progressions and conclude with a fun jazz combination to any age/style appropriate music. Basic jazz levels 1, 2, and 3 are the foundation levels  of jazz technique.  We recommend that jazz 1 students take 1 class a week, jazz 2 dancers take 2 classes a week, and jazz 3 dancers take 3 classes a week. The Intermediate jazz classes are designed to give more advanced dancers (dancers who have typically taken 3 years of jazz) a challenge.
A high energy upbeat class practiced and performed with all types of music but typically Pop, R&B, and age appropriate Hip Hop. Dancers 8 – 12 will enjoy movement and lyrics that have been carefully selected to avoid themes that are inappropriate for this age.  Ages 13+ will explore more movement possibilities, but with music and movement choices that are still sensitive to the young person.  Our Hip Hop classes explore movement through methods such as isolation work, breaking, popping/locking, and choreography incorporating club and street movement as it blends with Jazz, African etc. Each instructor will fuse their personality into class. This is an aerobic and relaxed atmosphere, enjoy yourself.
Pre-Ballet Tap Combination Class
This class includes pre-ballet skills that mimic playground skills like walking, running, galloping, marching, skipping, leaping, and twirling followed by imaginative theater games.  The second part of the class focuses on simple tapping with percussive elements.
Ballet Tap Combination Class
This is a traditional tap class that combines various genres of jazz and music that often reflects Disney and Broadway Theater with an emphasis on presentation. Basic ballet fundamentals are also covered to give the dancer a full range of movement experience.
Basic percussive tapping that includes Hollywood-style contemporary tap.
Tap is a rhythmic and percussive dance form that was born in the US.  Tap offers a variety of styles and techniques including classical, Broadway, and rhythm tap that can be performed to any kind of music.  We offer multiple levels of classes from basic beginner to more advanced levels to build a solid foundation of tap technique and allow dancers to progress to more difficult steps and combinations.  Students will develop a sense of rhythm and dance coordination while having a great cardiovascular workout.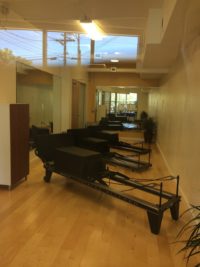 Motio


We offer private reformer and mat classes at AAB through Motio, our in-house Pilates studio. Many of our parents enjoy taking Pilates while their child takes dance class. For more information, please call 650-839-9980 and ask for Owen.
We're also proud to note that all of our Intermediate and Advanced dancers take at least one Pilates class a week. This is the training relied upon by top professional ballet dancers to build overall body awareness and strength while also helping to prevent injury.